Want all the details on our high-quality Real Estate Recipe Postcards?
Product Name: Real Estate Recipe Postcards
Physical Size: Standard: 5.47 x 4.21 inches Large: 8.5 x 5.47 inches
Bleed Size: Standard: 5.59 x 4.33 inches Large: 8.62 x 5.59 inches
Material: 16pt (what does this mean?)
Coating: UV Coating (what does this mean?)
Corner Options: Standard
Quantity Options: 100-20,000 sheets
Turnaround Time:  3-7 Business Days (dependent on shipping method selected)
Other Options: Product customization available, for a $25 fee we will customize your postcard for you. For a fee of $50 we will design your postcard from scratch. Images such as photo's logo's etc have to be provided by customer. All Images should be of print quality. Product customization includes changes to your layout, adding designations, silhouetting your photograph.
ONLINE RECIPE POSTCARDS DESIGNED FOR REAL ESTATE AGENTS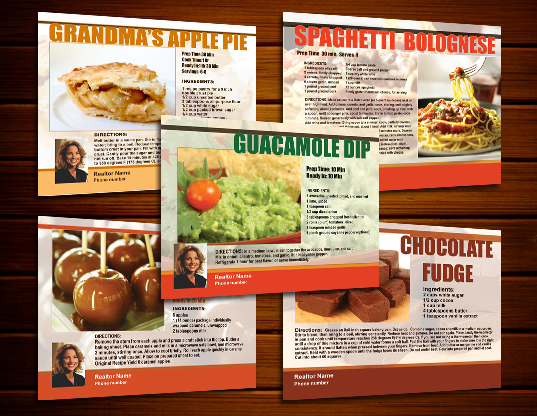 Gracefully touching base with your real estate farm list isn't always easy, especially when you go it alone. You need a good reason to contact them before sending out a volley of farming postcards. Sometimes, finding that reason can be a challenge. BestPrintBuy makes it easier for you with resources and ideas, tips and tricks, to make postcard marketing easy for every Realtor® we serve.
One way to provide regular contact with your real estate farm list is a series of recipe postcards. A variety of postcards will offer you regular, meaningful, effective contact with the individuals on your farm list.
Sharing recipes is an age-honored tradition among friends and it offers you a wonderful way to maintain regular contact with your real estate contacts without being pushy. Recipe postcards are a natural during the growing season, the harvest season, and the holiday seasons.
We offer a variety of recipe postcard templates, tips and ideas to make creating these cards a snap! We also offer regular blogs with recipe postcard content ideas so you don't have to search for the recipes you need or worry with the details. We do all that for you!
BestPrintBuy.com offers recipe postcard's to help you stay fresh on the tongue of clients looking for a real estate professional. Visit our blog for real estate recipe postcard advice, tips and news, including approaches to effective real estate recipe postcard design. We offer specific real estate templates for: Recipe Postcard's.
You can create your new real estate recipes postcard now on BestPrintBuy.com. If you have any questions about designing your postcard's, call us at 1-866-763-8720. We are always happy to help!