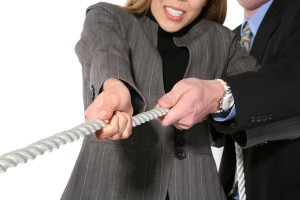 Take a look at the definitions below: problem vs. challenge. How are the words similar? How are they different? Both mention the word "difficulty," but each description defines difficulty differently.
prob·lem (noun):
any question or matter involving doubt, uncertainty, or difficulty.
chal·lenge (noun):
difficulty in a job or undertaking that is stimulating to one engaged in it.
A problem implies an obstacle or issue that will be hard to overcome. A challenge states that although things may be a bit difficult, it will be approached with enthusiasm and a positive attitude.
How can these words be used when dealing with real estate clients? Here's an example of how positive language results in smoother communication:
"There's a problem with your P&S." or:
 "We've got some challenges with your P&S."
The conversation begins with a negative by using the word "problem." It colors the attitude of both the speaker and the listener. For most people, problems bring stress and aggravation.
When presenting a difficult situation, it's best to propose a possible solution (or a few options). For example:
"The problem (or challenge) is _______. You may want to think about possibly doing ____, _____, or _____ to take care of that issue."
Or, you might want to take a negative and turn it into a positive:
"We ran out of Just Listed Postcards, but I ordered more and they should be in the mail by tomorrow."
The point here is to be aware of how you approach challenging issues with your customer. What you say and how you say it really makes a difference when it comes to building good relationships with buyers and sellers. When problems are treated as challenges, the results are more likely to be positive.
BestPrintBuy.com provides print and marketing solutions for real estate agents and their franchises. We offer online design and print solutions for business cards, postcards, postcard mailing and marketing, folded note cards, door hangers, note pads, bookmarks and several other products to real estate agents.