Want all the details on our high-quality real estate Farming Postcards?
Product Name: Real Estate Farming Postcards
Physical Size: Standard: 5.47 x 4.21 inches Large: 8.5 x 5.47 inches
Bleed Size: Standard: 5.59 x 4.33 inches Large: 8.62 x 5.59 inches
Material: 16pt (what does this mean?)
Coating: UV Coating (what does this mean?)
Corner Options: Standard
Quantity Options: 100-20,000 sheets
Turnaround Time:  3-7 Business Days (dependent on shipping method selected)
Other Options: Product customization available, for a $25 fee we will customize your postcard for you. For a fee of $50 we will design your postcard from scratch. Images such as photo's logo's etc have to be provided by customer. All Images should be of print quality. Product customization includes changes to your layout, adding designations, silhouetting your photograph.
ONLINE FARMING POSTCARDS DESIGNED FOR REAL ESTATE AGENTS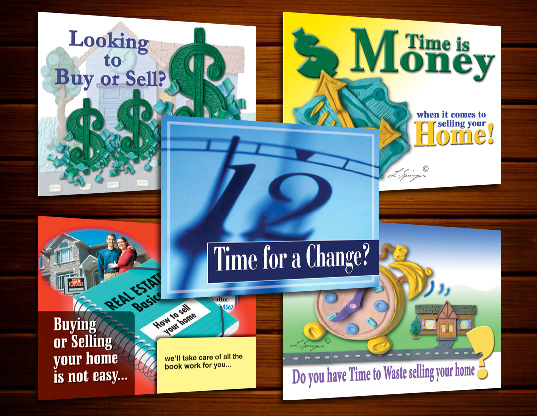 Marketing and Farming Postcards will keep your contact information and services fresh in the minds of new listing clients and buyers in the neighborhoods you are targeting.
Farming isn't about advertising; it's about building relationships over time. It's about becoming the go-to expert and resource for all things "real estate" in your real estate farm area. Successful real estate farming depends on the help you offer, the information you share, and the regularity of useful contacts that you make with the individuals you most want to serve.
Farming postcard campaigns will make your name familiar and your services more attractive. They are a great way to maintain regular contact without blowing your budget. You can create a campaign all at once or make a new one each month — depending on how you work best.
If you are planning a vacation or want to enjoy a worry-free holiday, our farming postcard templates and online design studio can be used to create the postcards you want in advance and our mailing services will keep them on schedule for you. Isn't that nice?
Let us help you to sow the marketing and contact seeds necessary to harvest a richer bottom line with your own, custom farming and marketing postcards.
You can create your new real estate farming postcard now on BestPrintBuy.com. If you have any questions about designing your postcard's, call us at 1-866-763-8720. We are always happy to help!