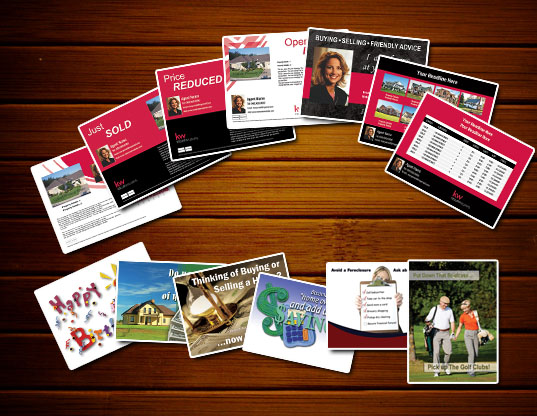 Credibility management. Every real estate professional's success is governed by your reputation for integrity and effectiveness. Your communication strategy revolves around communicating "why choose me". Smart real estate professionals across America employ the use of "Just Sold" messaging as part of their credibility management process.
The following are elements of "just sold" messaging to consider within your print products:
Images – When designing your postcard, make use of actual property images and include your photo for recognition.
Emphasis – Make emphasis on important texts and headlines by either making the font larger and bolder than the rest or make use of contrasting color that could complement well with the entire look of your postcard.
Color Scheme – Use colors that match your company's branding. Not merely for your "just sold" postcards but for your other marketing materials as well. Be consistent so your audiences can easily recognize your branding.
Graphics – Choose graphics that are related to your message. Since it is a "just sold" postcard, you may use a house image with a sold sign for example.
CTA (Call to action) – Make a clear instruction to your customers on what to do next. Let say, "Call today and learn how to save thousands on your next home" or something similar.
Advantages – Let your clients know what you can do for them. Provide them the list of advantages they can benefit when working with you. For example fast selling or complete paper processing service.
Testimonials – You may apply "gold star graphics" that include positive reviews to communicate past successes.
BestPrintBuy specializes in a full spectrum approach to help you market and excel in your real estate profession. This is but a single example of many strategies and products that you can employ to promote you to your market's most profitable service provider. Contact us for more information or to request a quote.