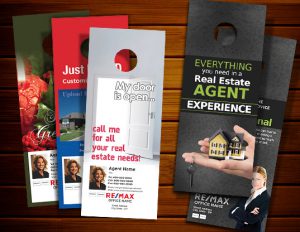 Among the marketing tools in real estate, Door Hangers are one of the proven effective marketing strategies that help you better connect with people in a specific area. It allows the agent to be creative and have fun with the marketing strategy without adding any additional cost in promotions or other selling techniques. Door hangers are a most effective way to explore a specific community especially as a supplement to the direct mail marketing during the open house, promotion, or even a recently sold property.
Real Estate Door Hangers will give you the chance to make memorable connections in your target neighborhood without tiring yourself to go house to house. Your creativeness in messaging in the door hangers will make your brand known and stand out. It will assure a tremendous return on your efforts and offers a lot of added value at a very low investment. There are a lot of creative Door hanger ideas like magnets or note pads in a door hanger bag or a detachable business card and more. The door hangers will help increase your leads and build your rapport making them an effective boost to increase sales and offers. With an effective real estate door hanger it will put you as the leading agent in the neighborhood because when a person will decide to list their home for sale or explore other options, you are the first name that comes to their mind.
Generally, a Real estate door hanger marketing effort is the best technique that will increase your identity as a real estate agent and your brand recognition. It will create the higher lead conversion from your targeted campaigns and will help develop more referral leads. An elegant door hanger will create a graceful experience that will bring out the best in your listing for home buyers and curious individuals.
For more tips on real estate, contact Best Print Buy.