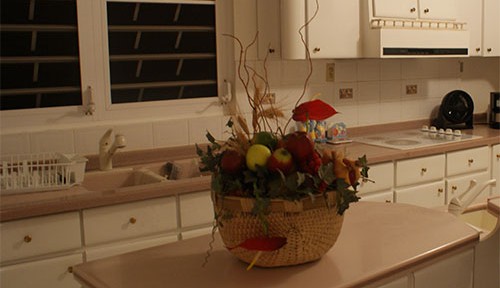 If your clients are working with a small kitchen area, you should offer them the following tips to help increase the perception of space inside this important room. The kitchen is the "heart" of the home (or the house for sale). Helping them improve the look of this room will help them sell their house… and isn't that what you do?
Offer them the following tips on your blog, or in your newsletter, in your seller's information package — or in your next postcard campaign. Your choice!
Paint cabinets the same color as the walls to eliminate visual boundaries and dark cabinets that close in a space.
Direct the eye up. If the decorative and color accents encourage the potential buyer to look toward the ceiling, it will open up the space — visually.
Expand the light. No dark and dreary is allowed! Add brighter wattage bulbs, remove obstructions to natural light (heavy curtains and shutters), and consider replacing your standard light fixture with directional lights to illuminate every corner.
Eliminate all counter-top clutter. Leaving items strewn all over the counters makes the kitchen seem too small to hold all your things — which will make a potential buyer assume it will be too small for theirs.
Keep your furnishings small. Slim lines, smaller footprints and "airy" designs that don't block vision are the best choices to open up the space.
BestPrintBuy.com provides print and marketing solutions for real estate agents. We offer online design and print marketing solutions. If you need information about our real estate post cards or other marketing products and services, call us at 1-866-763-8720. We are here to help you succeed in every type of real estate market!