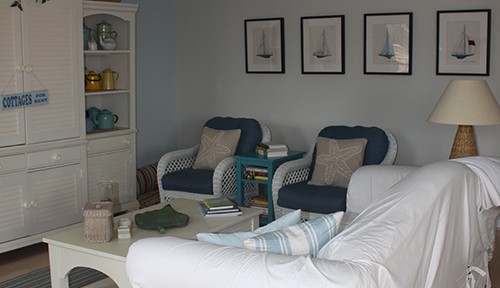 Sometimes your clients don't have a big budget for staging, and need to work with the living room furniture they already own. Below are three tips to help them "dress up" the less expensive furniture with impressive finishes and details.
Add molding to the top of a plain shelf. A few dollars and a quick trip to the local hardware store will take a shelf from so-so to wow!
Replacing the thin paper-based backing of a bookshelf with beadboard will improve the look of a simple shelf in an instant!
Update your couch with a slip-cover (if the whole couch needs help) or cover up some sun-fading on the back by adding a same-color throw with texture and a few pillows.
Making sure the living area is in top condition will help the entire house look more inviting. Your furnishings don't have to be expensive to create a good impression.
BestPrintBuy.com provides print and marketing solutions for real estate agents. We offer online design and print marketing solutions. If you need information about our real estate post cards or other marketing products and services, call us at 1-866-763-8720. We are here to help you succeed in every type of real estate market!