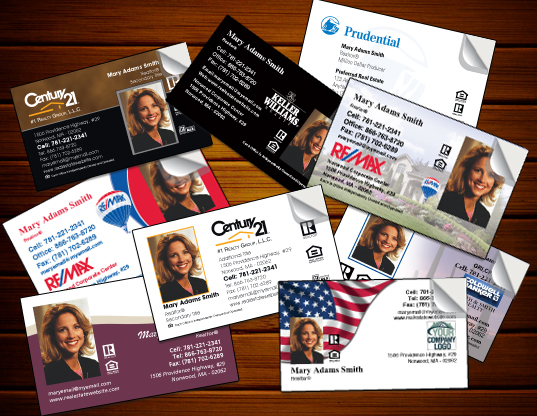 A few years ago, it was a no-no to print additional information on the back of your real estate business card. It created an over-stuffed card that robbed your recipient of the ability to jot a couple notes on the back to help them remember you.
Today, more people are using the back of their business cards to print additional information. This reverse side design trend is sometimes a good idea, sometimes a lousy one — depending on how you handle it.
The reverse side of your business card needs to bring something important to the party, otherwise it should be left blank and traditional.
Technology and the Backs of  the Real Estate Business Cards
Keeping your business card simple and clean is important. If you overwhelm potential clients with all the methods they might use to call you on the phone (by listing five numbers, for example), you might just lose them. Since most people live by their cell phone now, the number of phone numbers assigned to each person has begun to drop.
On the flip side (yes, the pun is intended!), the number of ways to reach someone has multiplied. Social media has added a multitude of platforms for "connecting" through technology. Social media is becoming an essential tool for most real estate agents. As such, it makes sense to keep the front of your real estate business card as "clutter free" as possible, and make the back side the social media zone.
Simply typing the addresses to your various accounts will make it easier for any client or potential client to connect with you on the platform they use, or the ones they use most often.
Make Your Social Media URLs Easy To Read
If you haven't' "claimed" your social media profiles and/or renamed them to something that doesn't involve the auto-generated string of numbers, you need to do that. You need to do it before you try to share that URL on the back of your business cards.
Most social media platforms have step-by-step instructions to "beautify" your URL. Be sure you select a good extension that will serve your marketing goals now and into the future. Remember, keywords in a URL — even your Facebook URL — will boost your marketing clout.
Order Real Estate Cards with Social Media Backs Now
If you are ready to order your two-sided business cards to display your essential information on one side and your social contact information on the other, Best Print Buy can help you do that — quickly and economically! Just visit our online design studio.
(Even if you prefer to stay with a single sided design, our prices, speed of delivery and service before and after the sale can't be beat!)