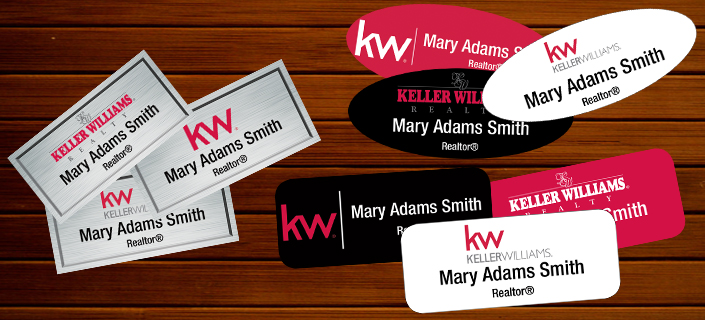 Once you have your own personalized Keller Williams name badge… do you know how to wear it?
On Which Side Should You Wear Your Keller Williams Name Badge?
According to Emily Post, you should wear it on the right side. Why? Because the person shaking hands or greeting you has an easy way to make eye-contact with you AND see your name badge at the same time. And name recognition is the whole reason for wearing your real estate name badge, right?
How NOT to Wear Your Keller Williams Name Badge
Don't let your name badge drop down at or below the level of your shirt pocket. For ladies, keep it above the bra area. For everyone – never EVER put a name badge on your belt. It's awkward for the people you meet to look at a name badge that is placed on or near parts of the body that they don't want to appear to ogle.
Three Reasons Why Your Keller Williams Agents Should Wear Name Badges
Name badges help clients to identify agents and employees
They help to build brand and corporate identity
It puts clients at ease – Knowing a name is a great conversation opener
If you want to order your own Keller Williams name badges, or if you want to order branded Keller Williams name badges for all of your agents, and have any questions, call us at 866-763-8720. If you are ready to order now, visit our online design studio and begin! It's fast, easy and we offer 3-5 business day delivery!