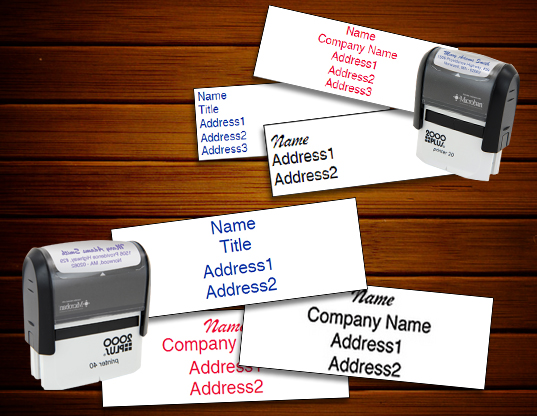 Sure, you could use a Keller Williams rubber stamp to quickly and economically add a return address to your correspondence, but wouldn't you like to expand that use a little? After all, each one of BestPrintBuy's Keller Williams self-inking rubber stamps has literally THOUSANDS of impressions waiting for your creativity to explore.
Rubber Stamp Your RSVP Envelopes
When you have an event that requires an RSVP (like a client appreciation event!) use your Keller Williams return address stamp to quickly pre-address the reply envelope.
A Branded Gift Tag – Easy with Your Keller Williams Rubber Stamp!
When you give a client a "thank you" gift, use a plain white card that says "thank you" (hand written by you) on one side, and has your branded Keller Willilams rubber stamp on the other. Simple. Effective. Smart.
As a Gift – For Your Keller Williams Clients!
What could be more perfect for a brand new home owner than a return address stamp listing their brand new address? You can customize your Keller Williams rubber stamp to be personalized for that first time homeowner. A lovely way to say "thank you" to your Keller Williams real estate clients with a gift they will use thousands of times (and think of you every time they do!)
No matter how you plan to use them, Best Print Buy will send you the highest quality, Keller Williams rubber stamps to use over… and over… and over again. What a great investment in your branding and in your business. Design yours today by visiting our online design studio. If you start now, you can be finished in mere minutes — and your Keller Williams rubber stamp will arrive in only 3-5 business days!
Happy stamping!