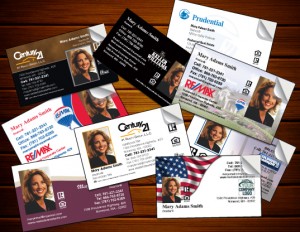 Want all the details on our high-quality Real Estate Business Card Stickers?
Product Name: Real Estate Business Card Stickers
Physical Size: Standard: 3.5 x 2 inches
Bleed Size: Standard: 3.63 x 2.13 inches
Material: Adhesive label stock (what does this mean?)
Coating: UV Where offered (what does this mean?)
Corner Options: Standard
Quantity Options: 1,000-5,000 sheets
Turnaround Time:  3-7 Business Days (dependent on shipping method selected)
Other Options: Options of uploading a photo, adding a QR code to the front or back of the business card, available as team business cards, photo silhouetting available, product customization available, for a $25 fee we will customize your calendars for you. For a fee of $50 we will design your postcard from scratch. Images such as photo's logo's etc have to be provided by customer.
Real Estate Business Card Stickers DESIGNED FOR REAL ESTATE AGENTS
Real estate business card stickers are a great investment of your marketing dollar. They can:
Be used as a traditional real estate business card (with the waxy back still in place),
Extend your marketing in other traditional ways
Be used to indulge in a little creative personal promotion
Personalize other marketing materials
Be used as return address labels
Serve as a multi-purpose marketing tool to brand giveaways and identify objects
Ordering real estate business card stickers can actually save you money — especially when you are first starting your real estate practice. Rather than spending the money required to get custom printed or embossed folders for client presentations, you can purchase more economical folders and brand them as your own in seconds by adding your real estate business card sticker to the front cover or on a pocket in the interior.
Personal promotion doesn't have to be difficult. Real estate business card stickers make it easy to brand your services, gain face recognition, and supply all your preferred contact information every time you use one. Many marketing uses, one low price!
Our easy-to-use online templates offer a quick way to design your Realtor® business card stickers in minutes and our quick shipping will get them in your hands in just a few days.
Begin using this little powerhouse of flexible, creative marketing savvy to your advantage! With BestPrintBuy.com, a custom designed Real Estate Business Card Sticker will ensure you will be remembered at those critical times when your clients need you the most!
We offer a variety of real estate templates for: Real Estate Business Card Stickers, so you can create your new Real Estate Business Card Stickers now on BestPrintBuy.com. If you have any questions about designing your calendar's, call us at 1-866-763-8720. We are always happy to help!