Want all the details on our high-quality Real Estate Note Cards?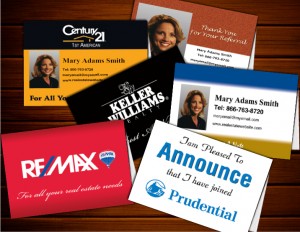 Product Name: Real Estate Note Cards
Physical Size: Standard: 5.47 x 4.21 inches
Bleed Size: Standard: 5.59 x4.33 inches
Material: 16pt (what does this mean?)
Coating: UV Where offered (what does this mean?)
Corner Options: Standard
Quantity Options: 50-1,000 sheets
Turnaround Time:  3-7 Business Days (dependent on shipping method selected)
Other Options: Product customization available, for a $25 fee we will customize your note card for you. Images such as photo's logo's etc have to be provided by customer. All Images should be of print quality.
REAL ESTATE NOTE CARDS DESIGNED FOR REAL ESTATE AGENTS
In the age of digital immediacy, in our current culture of impatience and the paramount importance we place on social networking… what leaves a lasting impression? Is it a quick automated email? Is it a thumbs-up "like" on someone's social networking wall? Texting maybe? No, not really.
A few sentences hand-written and sent with an actual stamp may be rocking it old school, but it's unexpected. It's unique these days. Things that are rare are considered valuable and hand-crafted personal communication with your real estate clients is the height of effective, memorable personal promotion. It is one of the best personal promotion ideas to implement.
Go that extra mile
Once you order personalized note cards, select a really smooth writing pen with a lush, rich shade of ink. Consider coordinating your ink with your logo colors, if you don't want a classic blue or black ink. Take it beyond writing a few lines by hand and tend to these details.
Resist the urge to use computer-printed addresses on your envelopes. Skip the metered mail and add actual stamps. Sending out a hand-addressed envelope with a traditional stamp will guarantee your card will be opened. Who can resist opening a letter hand addressed with a real stamp? Can you? I didn't think so.
Tuck in one of your real estate business cards too, but realize it's the hand-written note that separates you from the crowd, pushing your promotion efforts far above those of the competition. After all, what Realtor® takes the time to do such things? You do!
Order your professional, personalized real estate notecards today and we will have them to you in record time. BestPrintBuy.com offers a one-stop shop for all of your folded note card requirements. We offer custom designed templates, 24 hour turn-around times, and professional quality printing.
You bring the pen and the stamp.