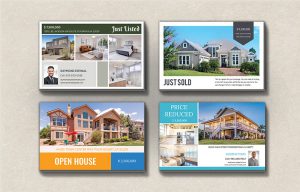 We take an active role in our client's marketing success. Part of that role is to survey and capture feedback regarding their overall real estate business marketing strategy and execution plans. Today we'll summarize some recurring themes from our discussions with clients regarding Independent Realtor Postcard Marketing:
· Direct mail marketing outperforms digital marketing conversion rates by a significant margin
· The average ROI for direct mail marketing campaigns is 16%
· 100% of their clients feel direct mail is more personal than email
Direct mail postcard marketing produces increasing real estate business development by delivering better and more personalized content to the target audience. When you focus your direct mail messaging on potential needs of your prospects or problems you can solve, your direct mail campaign will do a better job of converting them into a client. For example, if you're mailing to a list of families with strong buying power in a bad school district, your direct mail marketing should highlight houses that are available in a better school district.
Now here's the best part! Independent Realtor Postcard Marketing has never been so easy! You can set up your campaign in minutes online, select one of our designs, or upload your own. Select your list options and your postage options and you are ready to go! We handle the rest. Depending on the postage options, your cards will reach your prospects in 2-10 business days after we deliver them to the post office (48-72 hours after you complete your order online).
To get started on your next realtor postcard marketing campaign, contact Best Print Buy.