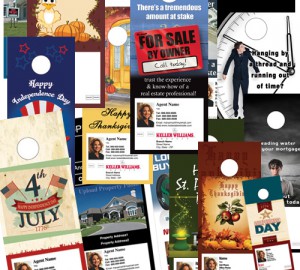 Door hangers are time-honored effective real estate business tools. The use of door hangers is a very effective marketing strategy that drives new traffic to the real estate professional in a very cost-effective manner. They deliver multiple positive effects.
They assist with brand recognition. They encourage lead conversion for targeted campaigns. They are used to announce an upcoming open house. And one trick of the highly successful agents, they are used to describe a recently sold property and the agent's ability to garner sales well above average asking price for the sellers and well below average asking price for the buyers.
The real estate marketing efforts using door hangers are a simple (yet proven) tool to connect with people in a specific target market. They are a creative, fun, effective, and yes highly affordable marketing tool. For more information regarding the creation and execution of door hanging strategies, contact Best Print Buy.