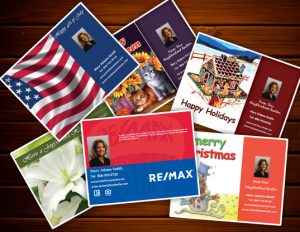 Real estate postcard marketing is one of the most sought after marketing product produced here at BestPrintBuy.com. You likely are not going to be surprised by the reason why. Are you ready? Because they work!
Our successful and returning clients testify that their carefully designed postcard marketing campaigns are a staple of their recurring marketing strategy because they generate referrals and new contacts. They confirm that the key to success in a real estate postcard campaign strategy is to be strategically consistent within campaign execution. Sending real estate postcards on a recurring basis keeps your real estate marketing services at the forefront of a larger audience, some with immediate service needs, and those with future real estate service needs.
Getting most of the postcard campaign involves some tried and true design characteristics. Simple and clear messaging being at the top of the list. Concisely communicating your "value proposition" (why trust me as your future agent) is an accomplishment that the vast majority of competing agents can't seem to author. We'll help you there.
For more information on how to maximize your real estate marketing effectiveness and budget, contact BestPrintBuy.