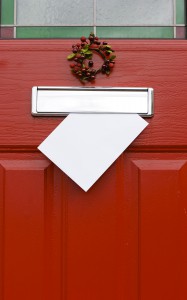 Direct mail marketing is a tested and proven real estate marketing strategy. It is a very effective way to reach prospects and secure new listings. Talk to the successful agents around you and inquire as to their return on investment with their direct mail campaigns. You can learn powerful business development insights from them.
Most successful real estate agents incorporate direct mail strategies and have used them since the beginning of their careers. They incorporate real estate direct mailing strategies towards a targeted recipient list that can include shotgun mailings to all residents in a targeted market, to target age groups who likely are seeking to downgrade or upgrade, to former clients as a means to secure referrals, and any number of other target strategies. It is important that the postcard for direct mailing gives impact and will have an eye-catching quality that will land directly to the target leads. Once the mail has been sent out, monitor the time your mail will reach the recipient and find the ideal frequency. This is the right timing to follow up with the target. Ensure that you direct your target, whether to call you and discuss home prices or send whatever physical gifts to be placed in the fridge or any usable promotional items. In this way, you will be easily recognized and remembered for your services.
Preparing the postcard complete with your personal details especially contact number and email address will greatly help. And in the case of past sales and existing listings, getting the word out about your services is crucial and supporting with a postcard is a great idea. As a general rule, be cheerful and optimistic once your target calls you and never forget to mention what is important to you as a Realtor and that to help people the best way you can which is the basic to brilliant marketing approach.
For more tips on Real estate, contact Best Print Buy.