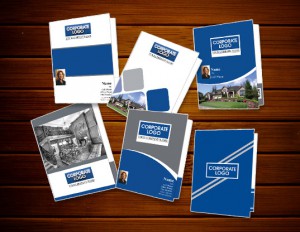 Keep Your Documents Organized
When you are presenting to a prospect or even to your employers, it is important that you are organized. It makes your presentation smooth and fast when you can easily pull out all the documents that you need them to see. It can also make sure that this important papers remain neat and tidy. A presentation folder can keep all important documents intact, protect it from being crumpled, and prevent them from getting lost.
For Good Impression
Using customized presentation folders show how professional you are. Whether you are presenting a portfolio or other important documents, it is impressive to see that these documents are filed accordingly inside a presentation folder. This shows your audience that you made extra effort to show your professionalism and preparedness.
Brand Promotion
Using presentation folders is one way to subtly promote your company and services. You may include your photo into the design along with your contact details. You can also include your company's logo, taglines, and even the color scheme. Put a brief information of what you do. Craftily designing your presentation folder and strategically placing the important elements in the design will make your presentation folder an effective visual tool to promote your brand while you are carrying out your presentation.
Low Cost
Coldwell Banker Presentation folders are high-quality and are offered in great prices. We offer elegant designs that will show how professional you are at your meetings and presentations. We customize designs or you may choose from several templates we have.
Contact Best Print Buy if you are interested on Coldwell Banker presentation folders.