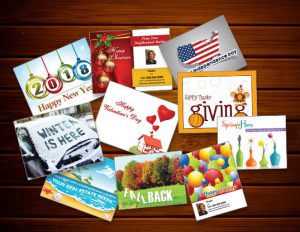 The holidays are here. Often it only takes sending a greeting card with warm seasonal wishes to make a big impression on prospects and existing client. So this holiday season, show appreciation to those in your business sphere by sending them real estate holiday greeting cards.
Surprise clients and prospects with Keller Williams Real Estate Greeting Cards. People are happy to hear from you even if their last transaction with you was last year. It is imperative to stay connected, stay top-of-mind, and keep client relationships going even years after the sale. Your efforts will be appreciated and you will garner great mileage by sending them. With your sincerest gratitude, send out custom-designed seasonal real estate greeting cards to those you've done business with this past year. Individually address each envelope to further add a personal touch, making the greeting more heartfelt and sincere.
Small gestures like this makes a big impact on your marketing strategy. These beautiful and affordable cards can nurture a good relationship and earn you referral clients. Contact Best Print Buy for easy, customized real estate greeting cards.