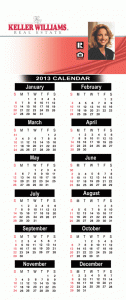 Want all the details on our high-quality Real Estate Magnetic Calendars?
Product Name: Real Estate Magnetic Calendars
Physical Size: Standard: 5.47 x 4.21 inches Large: 8.5 x 5.47 inches
Bleed Size: Standard: 5.59 x 4.33 inches Large: 8.62 x 5.59 inches
Material: Digital Printing – 14 Pt Uncoated. Offset Printing – 17 Pt Premium UV coated. (what does this mean?)
Coating: UV Where offered (what does this mean?)
Corner Options: Standard
Quantity Options: 100-5,000 sheets
Turnaround Time:  5-9 Business Days (dependent on shipping method selected)
Other Options: Options of uploading a photo, adding a QR code to the front or back of the business card, available as team business cards, photo silhouetting available, product customization available, for a $25 fee we will customize your calendars for you. For a fee of $50 we will design your postcard from scratch. Images such as photo's logo's etc have to be provided by customer.
REAL ESTATE MAGNETIC CALENDARS DESIGNED FOR REAL ESTATE AGENTS
BestPrintBuy.com's custom designed Real Estate Magnetic Calendars help your clients remember the dates that will brighten their day and make them think of you when its time to sell their home! Order your supply of personalized, Real Estate Magnetic Calendars today, and we will deliver them fast enough for you to begin using them by next week.
BestPrintBuy.com offers Real Estate Magnetic Calendars to help you make your business important every day of the year for clients that are looking for a real estate professional. Our Real Estate Magnetic Calendars are printed on 14-17pt high quality paper with a color enhancing UV coating. We don't permit inferior quality components for our clients, because it's our job to help you to stay as fresh as a first birthday on the minds of potential clients.
Visit our blog for Real Estate Magnetic Calendar advice, tips and news, including approaches to effective Real Estate Magnetic Calendar design. We offer specific real estate templates for: Real Estate Magnetic Calendars.
You can create your new Real Estate Magnetic Calendars now on BestPrintBuy.com. If you have any questions about designing your calendar's, call us at 1-866-763-8720. We are always happy to help!