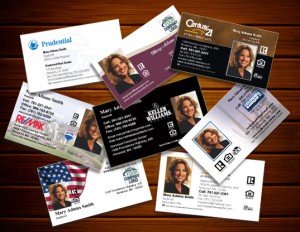 "So, what do you do for a living?" This simple getting-to-know-you question conversation can lead you to all kinds of interesting places. When you are meeting someone new, make sure to say that you are a real estate agent. And make sure to offer them your real estate business card.
Be sure your business card includes all of your contact information as well as a professional photo. Once you have a business cards in place, give them to everyone you know. If you are new to the area, or new to the real estate business, you need to get the word out. You just never know who may be in the market to buy or sell their house.
Always Have Your Card Handy
Don't go anywhere without your business card. Just about every encounter is an opportunity to offer your business card.
Places to Go
Many town libraries, supermarkets and coffee shops have a community bulletin board. Invest in a packet of thumbtacks—you'll need them—and post your business cards all over town.
People to See
Local business owners know how important it is to support other small businesses. If you see flyers in a pizza store, ask if you can add your card to the mix. The owner may say no, but even if he does, take the time to introduce yourself and tell him you're a real estate agent. Building relationships is a way to build your business.
Begin at Home
Start by canvassing your own neighborhood. Slip your business card in all of the doors in the area or tuck business cards into mailboxes.
Canvas the Area
The point is to literally cover an area with your real estate business cards. This seemingly simple idea can yield great results in the months to come. If one of your neighbors is ready to downsize and she sees your business cards, she just may call you!
Network with Others
Network with area colleagues and attend classes, seminars and conventions. Introduce yourself with affiliates such as mortgage brokers, insurance agents and attorneys. Pass out your business card to all of your professional colleagues.
Reaching Out
As you begin to gather momentum, offer your business cards to people who work with the public on a regular basis. This includes people like the local librarian, the waitress at your favorite diner, your hairdresser, and even your mail carrier.
More Ideas
Other places to hand out your business card include:
Community meetings and events
Professional and networking groups
Chamber of Commerce meetings
Volunteer groups
Book clubs, gyms, and even at your child's soccer game
And on, and on, and on…
BestPrintBuy.com provides print and marketing solutions for real estate agents and their franchises. We offer online design and print solutions for business cards, postcards, postcard mailing and marketing, folded note cards, door hangers, note pads, bookmarks and several other products to real estate agents.