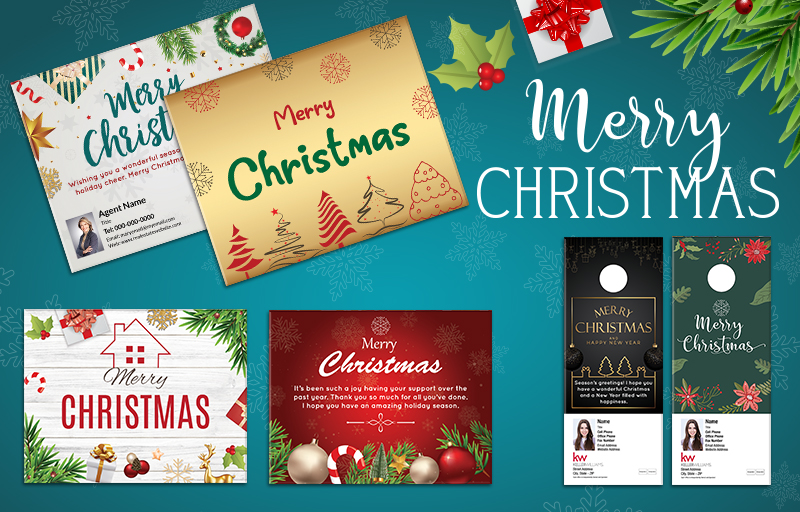 Many real estate professionals don't take full advantage of the fourth quarter business cycle. The most successful agents realize that the holidays is a time when so many people finally take the time to research what has been on their minds all year…real estate. So, there is real opportunity awaiting you if you take advantage of this period of peaked interest in the real estate market. Real Estate Holiday Greeting Card marketing can transform what traditionally is a slow season for your real estate business into the highest earning period of the calendar year!
Blanketing your target market with Real Estate Holiday Cards, sending them to former clients, mentors, and vendors is a proactive and proven marketing strategy that generates new business. This campaign shows respect and appreciation to those who have empowered your success and who have made a better life for you and for them is the best thing to hold onto with your holiday greeting card. The cards sent out to former clients will remind them that you are always available for referrals and to meet any of their future real estate leads. Creating a personalized real estate Christmas card is a wonderful way to stay in touch. This will help real estate agents to reach out this season with a note of gratitude to the client who is always helping out. To be effective, the Christmas greeting cards will feature beautiful portraits of the perfect dream home or the keys to your client's new residence and funny cartoons about the journey of finding a magnificent home at a friendly price. Many people in the real estate industry claimed that the weeks before and after the New Year are prime times to invest in residential property. It is this time of the year that people tend to make life-altering decisions around the holidays. Show your clients how much you appreciate their business while getting into festive spirit yourself.
Holiday cards are the perfect way to reconnect with past clients and even reach out to prospective house hunters. This is the perfect time to catch up with clients and let them know you are thinking of them during this busy time of the year. Holiday cards are the winning bid in the real estate world. At the same time, it is the best opportunity to make the most of the holiday as a marketing strategy to get in touch with your old and new clients.
For more tips on Holiday cards, contact Best Print Buy.