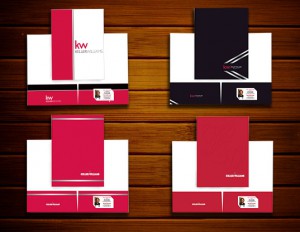 One of the foundationally import processes within the real estate professional's business is to present your product in the most favorable light. That is often down via professional presentation Folders. Your presentation must be as professional as the product itself. We'll help you deliver that.
There's no second chance when it comes to making a first impression. If you are presenting a listing agreement, marketing plan, contract offer, or other important documents, you want your clients to know that you're a reliable and trustworthy professional. Custom Keller Williams presentation folders from BestPrintBuy help you do exactly that. You'll be able to present all your information in an elegant, organized fashion. And whether you choose personalized presentation folders or opt for a stock folder with business card cut-outs, your contact information will be kept easily at hand.
Presentation folders are a cost effective ay to promote your business. This is a branded product you will use to package property profile information when you take prospects to preview homes. The product screams first class professionalism and is just one of your tools that contribute to their perception of you as the consummate real estate pro.
We exist to empower agents such as yourself with functional and reputation enhancing business tools. Contact Best Print Buy to learn where our real estate marketing products can take you and your business.