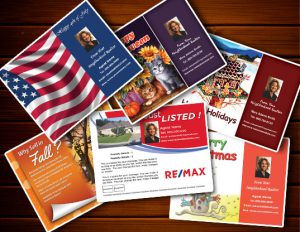 Real estate agents and brokers want to retain and keep in-touch with previous clients and generate more leads; an effective marketing strategy can help do both. Sending direct mail postcards can help remind people of your dedication and that you a strong player in the industry. Below are various direct mailing options to effectively send postcards:
Targeted Mailing – If you have a specific demographic area that you want to reach, targeted mailing is the best option. This option can help you reach the right audience by having control over who receives your message. This method is speedy, efficient, and effectively delivers results.
Pulse Mailing – This postcard mailing program can help you find your next listing by letting others know of your recent successful deal. Sending Just Listed Postcards and Just Sold Postcards can attract new prospects and referrals. Just select the postcard layout and craft the message.Then, the system will instantly mail it around the community.
Every Door Direct Mail – EDDM offers the least expensive direct mail method. This option enables you to send your real estate postcards along chosen USPS carrier routes by utilizing a simple carrier route mapping tool. Pick the design from various templates and when the postcard is done and ready for mail, USPS does the rest of the job.
Automated Drip Mailing – This smart mailing method does the entire mailing job for you. It can manage your mail campaign for an entire year. While giving you the option to upload your own list or send the mail to a selected list.
These mailing options can help real estate professionals connect with past and prospective clients. Select the best method for the particular purpose and ensure that your marketing campaign is effective. For more information, contact Best Print Buy to assist you with your real estate direct mail postcards.