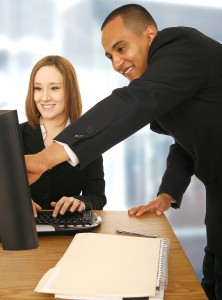 If you're new to the real estate business, consider getting a mentor. A mentor is somebody who can offer you advice and guidance in your real estate career. In some cases, real estate agencies will have a formal training program in place that pairs a seasoned real estate agent with a new staff member. That person will most likely act as your mentor.
But about when you need to find a mentor on your own?
When looking for a mentor, you'll want to seek someone who you respect and admire. Find someone whose goals are similar to yours and whose personality and style complements your own. Seek out a mentor who:
Is willing to spend time with you
Has patience to explain things to you
Has energy
Is in it for the long haul
In other words, seek out a successful real estate agent in your region who has been in the business for a while. You'll want to reach out to a real estate professional who has weathered the ups and downs of the market. Make sure this real estate agent has a positive attitude and enjoys challenges. They know the basics, like the importance of real estate business cards and the importance of real estate marketing materials. They also can offer new and creative ideas about how to approach your real estate career.
If you're afraid to ask for help, remember that everyone was a beginner at some point. Think about "job shadowing," which means following a Realtor® in their daily activities and observing how they conduct and organize their business. Then, ask a ton of questions!
BestPrintBuy.com provides print and marketing solutions for real estate agents and their franchises. We offer online design and print solutions for real estate agents including business cards, postcards, postcard mailing and marketing, folded note cards, door hangers, note pads, bookmarks and other products to real estate agents.