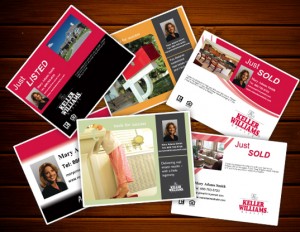 Direct mailings allow you to promote your business to highly targeted individuals in a cost-effective, timely manner. With the right targeting, you can reach the specific demographic that would be most profitable to your real estate business. A great way to increase your exposure and deliver the marketing message to the people that are most likely to respond is throughreal estate postcards.
One basic aspect of a successful business is getting noticed through marketing promotions and advertising. The beautiful thing about sending a postcard is that the recipient can't help but read your message. Postcards as real estate marketing tools make an impact to existing and prospective clients when done properly and when sent consistently. Well-designed real estate postcards should be creative, concise, memorable, and useful to create a positive impression. Also, it is important that your marketing message answers your clients' needs so that you get a better response.
Relevance is one of the most important factors for an effective marketing campaign. Creating postcards that look like a personal message rather than a sales promotion allows you to get a better response. By customizing your real estate marketing postcards, prospective clients will see your information and be much more likely to hire you.
To find out more about real estate marketing postcards, contact Best Print Buy.