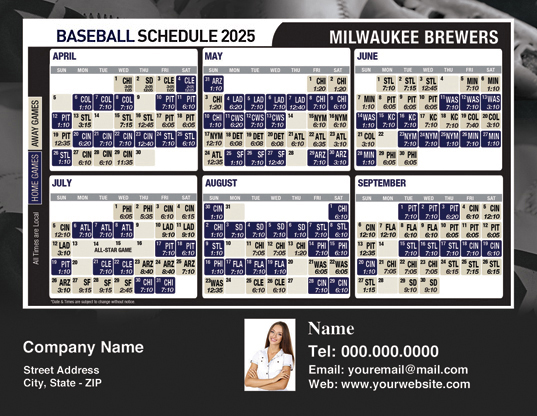 A statistically significant number of American real estate professionals repeatedly turn to an annual magnetic baseball schedule marketing campaign to drive new business. Care to guess why? That's right. Because it works!
Magnetic baseball schedules are a unique, fun and cost-effective way to market yourself and your properties to potential buyers. As a real estate agent, you know the importance of staying top-of-mind with your prospects. The best way to maintain your visibility and increase brand recognition is to provide your prospects with useful and interesting information. This is where magnetic baseball schedules come in. By providing your prospects with a schedule of local baseball games, you can help them stay up to date with their favorite team's schedule while also promoting your business. Baseball schedule Magnets are easy to create and distribute.
Custom design your own magnets. Once you have your magnetic baseball schedule, you can distribute them to your prospects in a variety of ways. You can hand them out directly to prospective buyers, place them in the local newspaper, or even mail them out in postcards.
When creating your magnetic baseball schedule, be sure to include information about your business. You should include your name, contact information, and a brief description of your services and what makes you special. This will help your prospects remember who you are and what you do.
Consider mentioning promotional offers and discounts, which will encourage your prospects to contact you. Magnetic baseball schedules are a great way to market your real estate business. They are cost-effective, creative, and will help you stay top-of-mind with your prospects. So don't wait any longer; start creating your magnetic baseball schedules today, contact Best Print Buy.