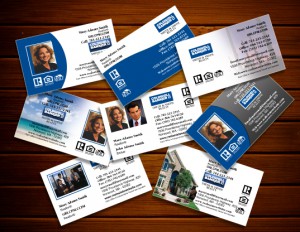 When you're a real estate agent, you know how business cards work and how it can help you with your venture. Having a well-crafted business card like Keller Williams business cards can make wonders to your business especially when you want to make a first impression to your potential clients.
Business cards are hand out to your target audiences so you can easily be recalled and contacted by them when the need arise. It's important that your business cards are far from being ordinary if you want to ensure that they don't go straight to the trash can. People are mostly visual, they tend to keep things that are colorful and attractive. This doesn't mean that it should look too fancy. The template design and the right choice of color scheme are critical in creating an elegant real estate business card. Keller Williams can help you create quality-made calling cards with a wow factor. They are not just creative but they put smart emphasis to the important details that you want your clients to capture and remember.
So whatever cool designs you have in mind, Keller Williams real estate business cards can help you layout and form it strategically. With over hundreds of pre-designed templates to choose from that we can further customize to suit your style. Contact Best Print Buy to get your Keller Williams customized business card started.