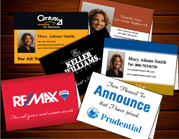 If you are thinking on how to grow your real estate business by perhaps joining the affiliate referral aspect of the business, there's a simple way to target your market in your area. Sending real estate folded note cards is a tried, true, and proven marketing strategy. These marketing products deliver personal communication with your real estate clients making them highly effective and memorable. People love feeling special so sending a "Thank You" note can greatly make a difference.
Sending personalized folded note cards are an excellent way to keep in touch with past clients, potential clients, referral partners, and associates. By sending a "Thank You" note for the listing, referral, and for the time or "Congratulations" for closing, this gives you an opportunity to professionally connect. The art of giving cards and thank you notes makes the appreciation marketing work at its best. If you show that you're genuine and sincere, they will know that they can trust you. Thus, it can build strong relationships and in turn creates repeat business and referrals.
These note cards are also excellent for announcements, personal promotions, and jotting a quick hand-written note. Sending note cards can give the personal touch that separates you from the crowd. Give your direct mail marketing a special appeal and deliver your message in style with folded note cards. BestPrintBuy.com offers a wide range of designer styles and templates, and professional quality printing.