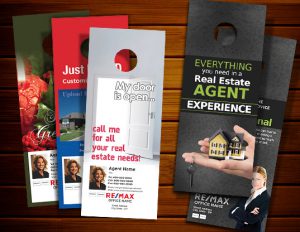 Door hangers produce. Period. Perhaps you might be hesitant to invest in this highly affordable marketing tool, but talk to the most successful real estate agents in your network and ask them about the effectiveness of a door hanging strategy. Door hanger marketing strategies provide a great deal of value for a comparatively low investment. Eye-catching door hangers stand out right onto your prospect's door handle and often spark dormant real estate-related thought within homeowners.
Real estate door hangers are excellent marketing materials for neighborhood-specific marketing. They help increase leads and cultivate referrals, making them an effective supplement to your any marketing effort. Whether you want to announce an open house, a recent sale in the neighborhood, or a promotion you are offering, real estate door hangers get you connected to your specific target markets.
One of the key benefits of using door hangers as part of your real estate marketing strategy is that you can be as creative as you like and use the exact same creatives within other marketing tools such as magnets, business cards, special offer coupons, and more without increasing distribution costs. Including these items along with your door hanger can pique your client's interest and can make your real estate door hanger to stand out.
To find out more about maximizing real estate door hangers, contact Best Print Buy.