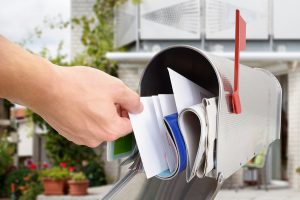 Marketing has changed with advances in online marketing, email and smart phones. However, direct mail marketing remains a popular and beneficial way to promote real estate businesses that want to get the most out of their marketing budgets. In fact, real estate agencies and brokers can even coordinate their online marketing with their direct mail by adding specific URLs, and links to social media. They can also use direct mail as ways to drive consumers to business website.
Putting information about events, homes sold, or new homes for sale into the hands of your customers and potential customers can be very successful and profitable. However, your direct mail pieces need to be done right. To do this, team up with a printing company who is well versed in direct mail marketing.
There is no shortage of direct mail today, so mailers need to be inventive, concise and eye catching. Your business needs to stand out. Create a direct mail piece that is exciting and incites curiosity. Design direct mailers that need to be read. If you direct mailer is not ordinary, it will stand out.
Direct mail is a way for your real estate business to boost its bottom line. It is a great way to get the word out about what you do and what sets you apart. For more information on direct mail marketing, contact Best Print Buy.