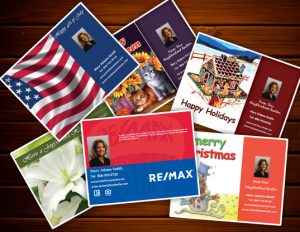 Direct mail postcards can help you promote your real estate business easily, effectively, and affordably. But to capitalize on these benefits, you need a reliable and efficient program in place. There are a wide variety of Direct Mail products – flat, folded, or specialty – to help you create a versatile and cost effective direct marketing solution targeted to your business market. Here are a few tips when considering direct mail for real estate.
Postcards
Postcards qualify for discounted First-Class postage.
Maximum size of postcard to qualify for discounted postage is 4 ¼" x 6".
Presort First-Class postage for a postcard costs less than Presort Standard postage for a letter.
USPS offers no Presort Standard postage rate for postcards.
USPS requires blank space 4" x 2" in lower right corner for address and bar code.
Folded Self-Mailers
Folded self-mailers cost less to produce than mailers in envelopes.
Folded self-mailers get better results than mailers in envelopes, because message is visible on outside.
Folded self-mailers must be secured with at least one wafer-seal or glue strip. (See Tabbing Guidelines)
Mailers folded with opening at top of mailing panel require only one wafer-seal.
Mailers folded with opening at bottom of mailing panel require at least two wafer-seals.
For more information, contact BestPrintBuy