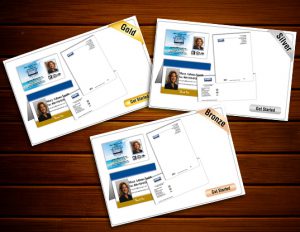 At BestPrintBuy, we're committed to bringing all of our customers valuable real estate marketing products at incredible prices. And one of the best deals we offer is our Coldwell Banker Agent Package. These packages, available in three sizes, combine some of our most popular offerings into a single kit.
Agent Packages are the perfect choice for anyone starting out in the real estate business, anyone switching to a new brand or brokerage, anyone who is updating their branding, or anyone who just wants a great deal on a ton of real estate marketing essentials.
What comes in our Gold-level Coldwell Banker Agent Package? You will receive:
500 Letterheads
500 #10 Envelopes
100 Standard folding notecards
100 Standard folding notecard envelopes
You can customize your business card with your choice of hundreds of template designs, available with or without photo and with your choice of 2D or 3D company logo. Your information and design choices will be carried over onto your custom letterhead and envelopes, giving you a full suite of marketing collateral with the click of a button!
Your Coldwell Banker Agent Package will also include personalized folding notecards, available with your choice of messages: Thank You, Just a Note, Announcing…, For All Your Real Estate Needs, and blank cards that allow you to tailor your own message.
Ready to get started? The customization process takes only minutes with our Easy123 design process. You'll have everything you need to start reaching out to prospective clients and referral partners in no time at all – and at an amazing price.
By the way, if you haven't yet signed up for our free newsletter, now is the time to start! You'll get monthly updates on our new and featured products, plus exclusive subscribers-only discounts.