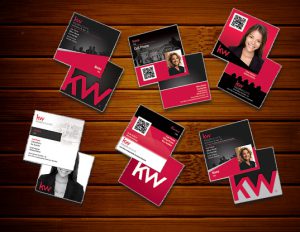 We've all heard the advice not to judge a book by its cover. But in the real world, people often do. That's why it's vitally important that your real estate business card projects the right image. There are several stumbling blocks that can cause real estate professionals to use business cards that don't make a good first impression: using an outdated picture, having too much information or the wrong information on your card, or selecting a design style that doesn't match your business personality.
So, what should you do to make sure your real estate business card is showing you in your best light? Here are a couple of strategies:
Make sure everything is up to date. The fastest way to show a prospect that you're not serious about your business is to hand them a business card with an old, scratched out phone number on it, or a photo that's clearly 20 years old, or no way to contact you other than office phone or fax number. Start things off on the right foot by using a recent photo, and make sure to include your email address or social media contact info.
Check out modern design options. If a minimalist design with lots of white space suits your style, that's fine. But if that's a little bland and boring for you, there are plenty of other options out there. You can go whimsical with a Keller Williams WOW! business card, luxury with a foil or ultra-thick business card, or stand out from the crowd with a modern square card.
Consider a QR code. If you have a special web site you want to direct prospects to, whether it's a personal business site or a link to your brokerage, a QR code might be the right choice for you. Thanks to the rise of the smartphone, almost everyone has a way to read QR codes in their pocket. Choosing a Keller Williams card with a QR code doesn't have to mean sacrificing style, either – many of our standard design options can be customized with a QR code.
Don't forget about color. A business card doesn't have to be blank white to look professional. There are plenty of design options that include a pop of color – or a lot of color! – to help your card get recognized. After all, a bright blue or red business card will certainly stand out in a sea of white. Fun colors can be the perfect way to show a little bit of personality in your business cards.
We have a ton of style and design options to suit every need here at BestPrintBuy. But if you want something that you're sure is totally unique, no need to worry. We can print custom orders, too! Upload a custom design for a standard or rounded corner business card, and you'll be able to combine your unique design with our excellent quality and customer service. It's a win-win.