Want to make sure that your business cards will be seen – and seen often? Instead of handing out yet another batch of real estate business cards that your prospects will just toss in the drawer (if you're lucky), why not try something a little bit different? High-quality RE/MAX real estate notepads come in a huge variety of styles and designs, so you can find the look that's perfect for your business. Clients will love them because they're useful enough to be taken everywhere they go. You'll love them because everywhere they go, your business cards will go along for the ride.
Our full line-up of notepads for RE/MAX agents offers great variety and versatility. You'll impress your clients from the start when you hand them a personalized notepad, complete with your contact details and a unique QR code which they can scan for more information. Magnetic notepads are always a favorite at local networking events, and with our easy-to-use Peel N' Stick adhesive, you can use your existing business cards to personalize the 20 sheet or 50 sheet notepads. We even offer 20-sheet notepads with included envelopes so you can use them as a "special gift" mailing for clients and prospects alike.
At BestPrintBuy, we believe in giving clients great products at a great price, and giving them the tools they need to customize everything. Our real estate notepads for RE/MAX's agents are no exceptions. Whatever your needs for client promotions and giveaways, you'll find the perfect product to help promote your brand.
Click on a link to select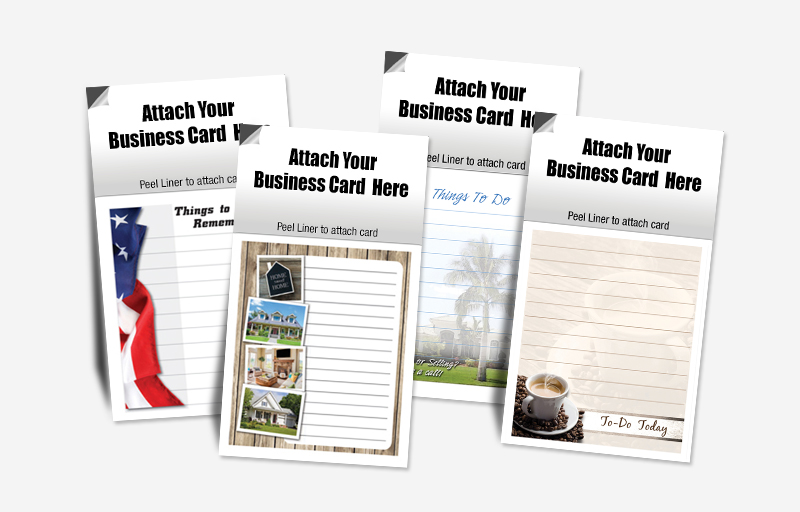 ■

Convenient notepads let you attach your business card for consistent branding

■

Magnetic Notepads Size: 3.5" X 6.25"

■

Printed in 4 color process on 20 lb. white bond.

■

Starting at for 100 More pricing and quantities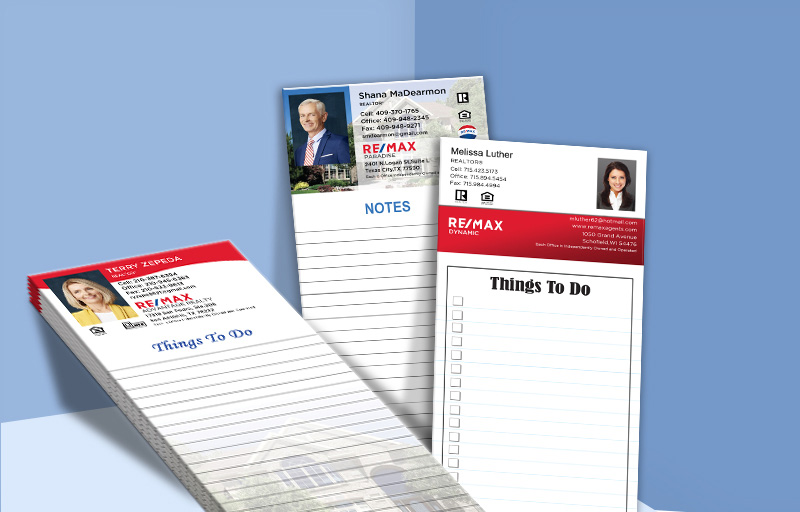 ■

High-quality notepads come pre-printed with your contact information

■

Personalized Notepads Size:

■

■

Starting at for 24 More pricing and quantities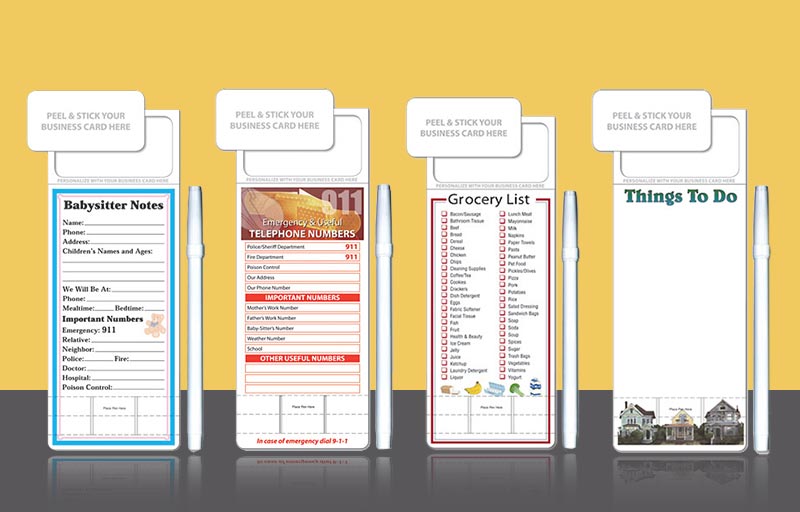 ■

Magnetic Backer and Free dry-erase pen included

■

Memo Boards Size: 3.5" X 9"

■

14Pt Laminated Card.

■

Starting at for 300 More pricing and quantities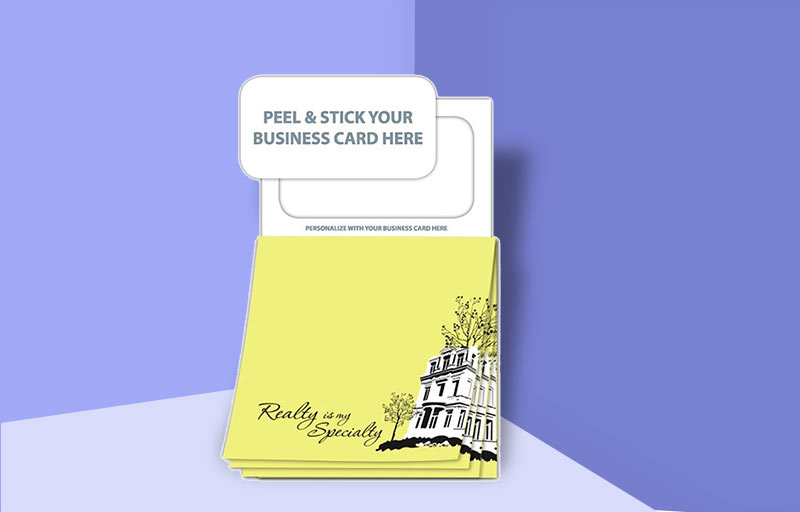 ■

Each sheet has a removable adhesive on the top that is safe for any surface

■

Magnetic Sticky Notepads Size: 3.5" X 5.5"

■

Material is 50lb. offset white bond.

■

Starting at for 100 More pricing and quantities
What products do you offer on your website?

We offer business cards, postcards, direct mail, EDDM (Every Door Direct Mail), folded note cards, greeting cards, stationery (envelopes and letterheads), calendars, magnets (business card magnets, calendar magnets, sports schedule magnets), notepads, agent packages and a host of other products.

I do not want to use your stock templates.Can I use mine?

Yes, you can provide your own designs. Please be sure to look up the specifications for the bleed and finished size for your design.

What file formats do you accept?

Our website accepts JPEG & PDF files only. If you have any other file format like EPS, TIF, PNG or BMP, please email &nbsp customercare@bestprintbuy.com the file, and we will convert the file into an acceptable file format and forward it to you.

Are your products of high quality?

Our products are printed on the highest quality substrate (in terms of thickness and reflectivity). Most of our products are also gloss coated.