Real Estate One Name Badge Products
Real Estate One agents are polished -- from their listing presentations to their custom-branded Real Estate One name badges. Why would you make do with a generic or low-quality name tag when you can clip on a personalized, Real Estate One branded, full-color name badge? The devil is in the details, and we can help you manage every detail to put your best foot forward -- every day!
Agents looking for high-quality Real Estate One name badges have multiple options to choose from, including our domed oval- and rectangular-shaped ABS plastic badges, which are finished with scratch-proof polyurethane to keep them wearing beautifully for years to come, as well as our metallic name badge, which is also available with a full-color print -- and our prices can't be beat! Choose your style and select from a traditional pin backing, a magnetic fastener, a swivel pin or a military-style tack fastener. Your Real Estate One name badge comes in a variety of design options for each shape, and you can order more than one to change them with your mood!
Prices begin at only $19.23, and we can complete production within in 5-7 days!
Click on a link to select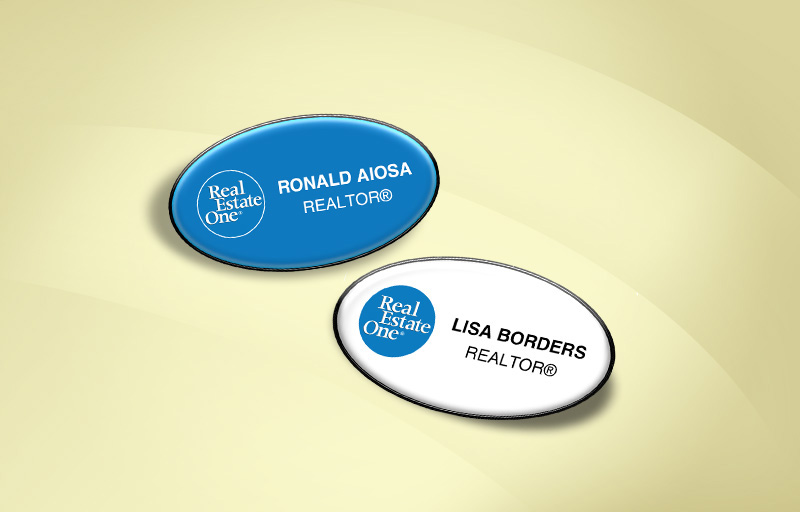 ■

Friendly, easy-to-read oval name badges in your choice of several on-brand colors

■

Size -

■

■

Starting at for 1 More pricing and quantities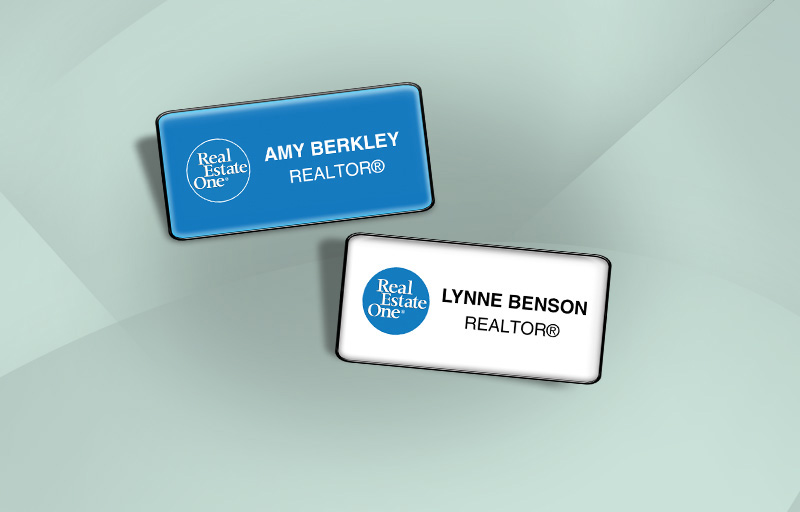 ■

The perfect blend of classic and modern styles in a durable, eye-catching rectangle name badge

■

Size -

■

■

Starting at for 1 More pricing and quantities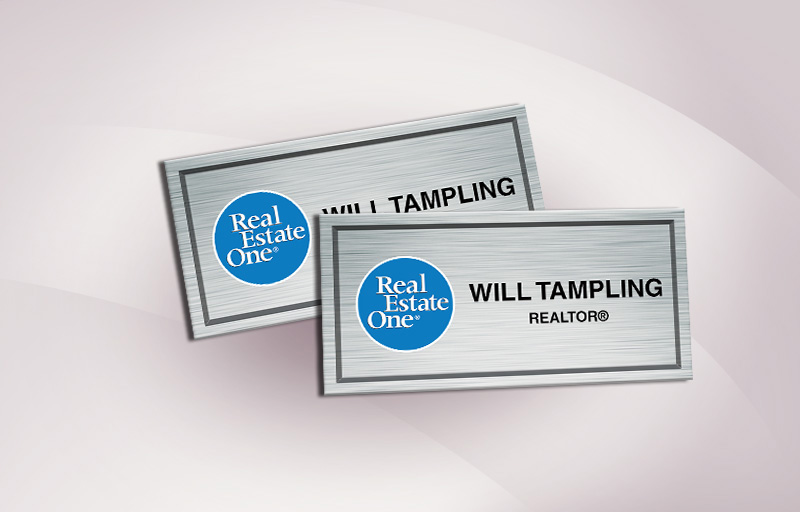 What products do you offer on your website?

We offer business cards, postcards, direct mail, EDDM (Every Door Direct Mail), folded note cards, greeting cards, stationery (envelopes and letterheads), calendars, magnets (business card magnets, calendar magnets, sports schedule magnets), notepads, agent packages and a host of other products.

I do not want to use your stock templates.Can I use mine?

Yes, you can provide your own designs. Please be sure to look up the specifications for the bleed and finished size for your design.

What file formats do you accept?

Our website accepts JPEG & PDF files only. If you have any other file format like EPS, TIF, PNG or BMP, please email &nbsp customercare@bestprintbuy.com the file, and we will convert the file into an acceptable file format and forward it to you.

Are your products of high quality?

Our products are printed on the highest quality substrate (in terms of thickness and reflectivity). Most of our products are also gloss coated.
Sign Up for the BestPrintBuy Newsletter for Special Offers, News and Inspiration