Real Estate Calendars
Attractive Marketing: Real Estate Calendars
Why send out whimpy little magnetic calendars when you can send our post-card sized versions? Magnetic calendar magnets are a seasonal real estate marketing product we offer in the standard 5.5 x 4.2 postcard size as well as our Jumbo 8.5 x 5.5 postcard size. Go large or stay home, right? With our magnetic calendars, your clients won't have to squint to see the calendars you send. (They won't have to strain to see your contact information, either!)
Everyone loves magnets. It's something that happens in childhood and few people ever overcome the wonder and "pull" of magnetic products. Admit it, you love playing with magnets too, don't you?
Sending out magnetic calendars (especially our uber-large ones) is a great way to market to your real estate farm list. Why not ensure that your personal promotion products will be used and on display in a prominent location all year long? Chances are good that your information will land on the front of the refrigerator (aka, "the hub of all family activity and planning") or on a metal file cabinet in the office where bills are paid and financial decisions are made. Either way, you win!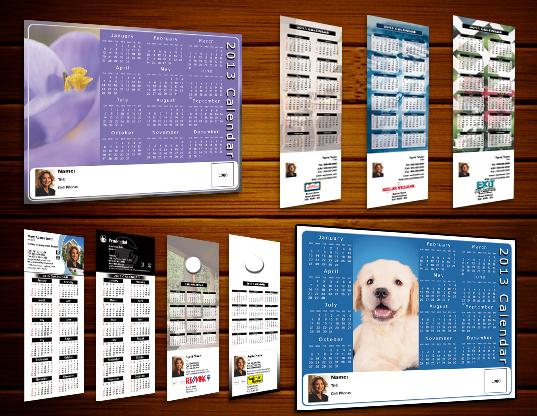 BestPrintBuy offers a wide range of beautiful graphics to incorporate into your magnetic calendar template. You may want to consider using an image familiar to the local community (a lake or park or historical landmark) to personalize your promotional product further. You can upload your own images for free and use them to create this seasonal promotional tool.
Order early to ensure that your calendar arrives before any competitive calendars, so your information will claim those coveted locations and continue to showcase you and your real estate services all year long.