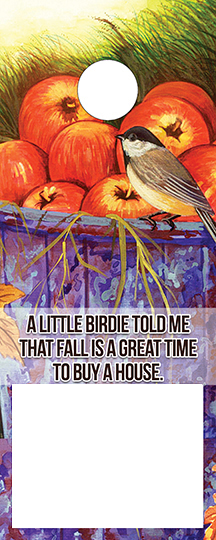 Realtor door hanger marketing is a proven real estate marketing strategy that literally opens doors to new property listings. Let's discuss why.
First, business owners in every industry face the struggles to strategically focus on growing the business. We all tend to get so bogged down in daily operations that we procrastinate the important things that grow the business. Strategic marketing grows your business and real estate door hanger marketing is one of those proven marketing campaigns that you can count on to grow your business.
The Fall season is that time of year where our door hanger marketing product's sales volume skyrocket. Countless successful agents like you reserve the beautiful weather and scenery of fall to take canvass their target market area and personally deliver door hangers. This strategy puts you in direct contact and affords you the opportunity to establish relationships with countless homeowners within your market space. Some of those people will have active needs for your services. Some will know people with active needs for your services. And those with neither will remember your conversation and become future clients simply due to your dedicated time and interest in meeting them.
So now let's get started designing your custom real estate door hangers for widespread delivery within your market space. Contact Best Print Buy now and order our pretty fall door hangers for your clients and prospects.