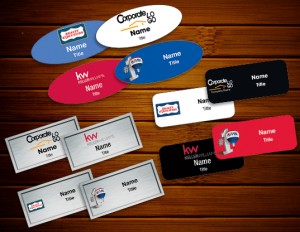 Are you wearing that same name tag for years now. Does it represent you well? Does it look old and tired, reflect a dated image of you, display outdated branding, or a host of other defects? Real estate name badges rank up there in the "first impression" category, and that first impression had better be a good one. We can help you achieve this!
The purpose of name badges is of course to be easily approached and remembered. People want to address you by name. This is human nature. Name badges pave the way for comfortable conversation. recognized and identified. The agent and target client will have an easy interaction with each other because of name identification. So let's talk briefly about Caldwell Banker metallic name badges.
These fine crafted name badges greatly promote a strong corporate identity and air of professionalism. Metal is stronger than plastic and offer the subconscious that you and your team are stronger than your plastic-wearing competition. We absorb non-verbal clues each and every day. We don't actively think about the non-verbal, but in marketing, non-verbal messaging is critically important. So, wear these name badges with pride and confidence.
For more information to get your new and highly effective name tag on order, contact Best Print Buy.