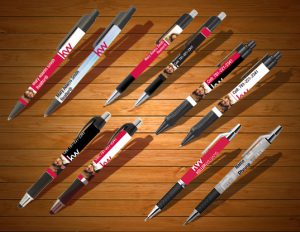 Looking for a promotional item that will help you seal deals? Personalized realtor pens offer a cheap and convenient way to get your name and contact details out there. They might be small giveaways but many people appreciate free pens for they are incredibly useful and they can carry your contact information anywhere.
Personalized pens have been a classic real estate promotional item for years, and for good reason – it doesn't get much more useful than an ink pen. We offer three varieties of grip pen with an imprint area greater than 3 inches, as well as a Colorama pen with a longer imprint area. Choose from blue or black EverSmooth ink on any of our Keller Williams pens, as well as personalization with all of your contact info and even a photo option.
Whether you need high quality engraved metal pens to affordable logo pens, our wide range of pen options can help represent you. Slid pens when you deliver paperwork packs, provide your clients personalized pens as keepsake for when they seal the deal or set out a stock at open houses.
Even if you have clients that won't close a deal now, as long as they walk away with your customized souvenir pen, you are sure that you will be top of mind when they need real estate services in the future. Because your personalized pen will flash your message and contact details repeatedly. If you hand out high quality pens, it will implicitly speak to your credibility and service quality as well.
Contact Best Print Buy and order your Keller Williams personalized realtor pens now!