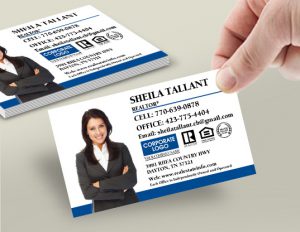 Your business card is certainly one of your top marketing investments. The smart and most effective agents are those who seek constructive criticism from industry mentors about the quality of your marketing strategy. Getting their opinion and recommendation for improvement will serve you well. Of course, since we produce thousands of business cards on a recurring basis, we can help you out here as well.
There are key ways to ensure that your business card serves you as an effective marketing too. At the very core of your business card marketing strategy is to, at a glance, communicate your most sellable "value proposition". Look at your current business card, and ask yourself, does it communicate at a glance, "Why trust this person"? Are you a one or repeat "Agent of the Month"? Are you a top selling agent in "neighborhood X"? Have you celebrated your 10th year as a "Market X" buying and selling agent? All of these things set you apart from others who simply list a name, photo, brand, and phone number on their business card.
Have you thought about making your business card multi-functional by placing a QR-code? QR code use has never been higher in large part because of the COVID-19 virus. Scores of people who previously never used QR codes now use them at restaurants who will not offer the traditional reusable menu. A QR code links the holder of your card to your web resource that fully flushes out your value proposition or "why choose me" statement.
The physical appearance of the real estate business card is naturally very important. You must choose a high-quality material for your business card to communicate that you are a high-quality agent. We'll gladly display your options.
For more information on Real Estate business cards, contact Best Print Buy.