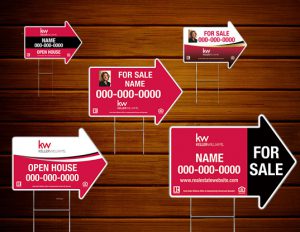 Real estate professionals all know that success is predicated upon building relationships based on trust. The quality of the real estate signs that you incorporate within your business is one way to communicate professionalism that one can trust. Our Keller Williams real estate signs deliver a graceful and highly effective communication tool that maximizes your ability to increase lead generation.
Little details make a big difference. We support your ability to fully customize your signage with logos, photos, and clean character scripts that maximize the ability to communicate you and your group's value propositions. Our KW real estate signs are a proven marketing support tool that directly link you to qualified buyers. Now is a great time to take advantage of some of the lowest prices of the year. Finish 2019 strong and prepare for even greater things in 2020 with your fresh new inventory of real estate yard signs.
For more tips on real estate signs, contact Best Print Buy.