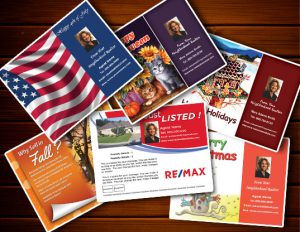 Real estate postcards with flair are extremely effective marketing tools. For the successful real estate professionals, real estate postcards are a tool used in their marketing mix to share new listings, promote open houses, and develop relationships with prospective clients. Postcards are a tangible item that prospects will read and pass along to others. And do not forget to send them to previous clients too.
We continually review the most effective real estate postcards out there and produce evolving ideas to support your marketing success. They will make a great impression on your target audience. Below are some trending ideas to bring your real estate postcards into the present:
· Know your brand. Every real estate postcard should be consistent within the brand of the sender. Inconsistency will lead to mixed messages or lead to situations where the recipient misreads what your brand is all about. Ideally all of your promotional materials and your website should be immediately recognizable as your own.
· Include social media links. It is incredible how few real estate firms take social media as seriously as other enterprises. Make sure recipients are given every opportunity to follow your brand!
· Keep content short. You do not want to overwhelm recipients with information on a postcard. Other print materials like catalogs and brochures might be more suited for a detailed exposition of the properties you have on offer. Postcard content should be quick and to the point. Many of the principles of crafting a good newspaper headline or Tweet apply.
· Keep visuals streamlined. You do not have to go completely minimalist, but you should keep images as concise as your content. You only have a limited amount of space, even on a large postcard. You definitely want to make every square inch count, but not at the expense of the core message. Most of the time, this means knowing where to leave things blank!
· Keep contact details easy to find. You cannot convert customers if they cannot reach you. The number of postcards with contact details on an inappropriate background color or pixelated beyond legibility. Make sure to review designs before you send them out for printing. Choose a printer that manually proofs designs so you can be sure this critical detail stands out.
Direct mail postcards are one of the most popular tools available to marketers in the real estate industry. And while they continue to be as effective as they have ever been, a lot of them tend to look alike and follow standards from decades ago, before internet and social media marketing became a serious factor but which is truly the current most fastest way.
For more tips on Real Estate Postcards, contact Best Print Buy.