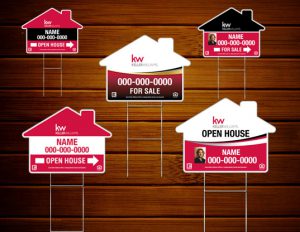 While it true that today's real estate marketing focuses on social media and online advertising, these hi-tech promotional means haven't managed to outstrip the effectiveness of real estate signs. Real estate professionals are virtually unanimous in their belief that quality real estate signs remain foundationally important to delivering sound reputation management messaging.
Whether interested buyers are driving around their dream neighborhoods or stopping in to check out an open house, an eye-catching real estate yard sign capture the attention of them all and sends an undeniable message about that agent. Cheap sign equals cheap agent, it's as simple as that. Keller Williams offers an affordable array of design templates that can be customized to effectively promote you and your company.
Always consider the materials used in creating your yard sign. It should be tough against outdoor weather and be capable to perform effectively for several years. If you need help in creating a customized real estate sign, contact Best Print Buy. Our Keller Williams Real Estate Signs offer top quality and attractive open house signs, for sale signs and other types real estate signs at reasonable cost.