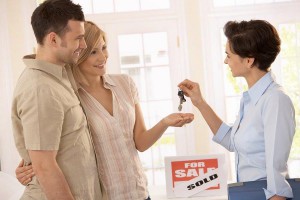 What are the common keys to a successful real estate open house? Location is the mantra of real estate sales everywhere and Open Houses are no exception. If your home is along a main street, it usually will attract foot traffic. But what if it's not? Here are the tips and tricks of an Open House:
1) Run a Facebook Live Stream at Your Open House. Remember, people want what other people want. The best time to stream and record a video walkthrough of your listing is when it is full of people. The potential buyers will view the house remotely and ask relevant questions that you will respond to and show in real time.
2) Use an Open House Sign in Book. You will ask people to sign in on a paper or ask custom questions and send all their contact data instantly. You will gain social insights on verified contacts in real time to help facilitate in-person relationship. Interact with your visitors. Be upbeat and cheery as you greet each person who enters the home. Find out what they are looking for and show them why your home fits those requirements.
3) Set up Mapped Signs around the area. Placing one every few blocks on the way to your house from major streets. Find the busiest intersection closest to your home and put an open house sign at that corner, too. It is good to attach strings of balloons to each open house sign. You include also big arrows pointing in the right direction.
4) Virtual Home Staging & Offer to Email it to Your Open House Visitors. Here is a great trick. Most people will have a hard time trying to visualize how a space will look with different furniture in it. Why not offer your visitors staged images that show how that extra room will look as an office, a nursery or a clinic? As you flip through the staged photos on your iPad, offer to email them the pictures. It creates highly realistic images of your properties.
5) Use Door Hangers to Invite your Neighbours. One of the best ways to get neighbors to your open house is by using door hangers. A targeted door hanger campaign a few days before your open house is the perfect way to pique your neighbor's curiosity and get them through the door.
6) Focus on three (3) Features that will make your listing stand out from your Comps. Find at least 3 features that your listing has that other comps do not have. Does it have more square footage? Larger bedrooms? Higher ceilings? You will now confidently rattle off 3 hot sales features that make your listing unique and show off your market knowledge and help sell the listing.
7) Provide your Guest a Welcoming Signage: "Welcome to our Open House. Look around, ask questions, see yourself living here, fall in love, make an offer." It is a cute, subtle push to help out!
8) Put out Paper Work. A good Open House is not just about ambiance. It will get down to business as well. You display four-color flyers filled with quality photos and the key points and unique features of your home. It is a cheat sheet people will take home.
9) Get feedback and ask buyers what they think of your home and if they will consider buying it. Many folks will be noncommittal, but sometimes they will decide to sit at the kitchen table and write an offer. You will pick up some useful info about the impression your property is making, as well as quick fixes to address problems.
Let people know that the party is on. Post internet listings everywhere, write colorful, descriptive ads and place them in web classifieds or open house directories at least a week before the showing. It is important not to forget personal social media. Since advertising online is the key, remember to do the old-fashioned methods, too. Place ad in a community newspaper, newsletter, or coffee shop bulletin board.
Best of luck with your Open houses! For all the Real Estate agents, remember to grind and shine and surely you will come out on top!
For more tips on Real Estate Tips, contact Best Print Buy.