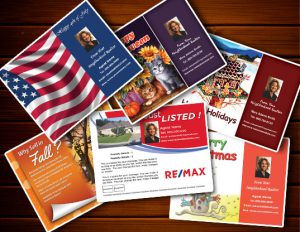 There are many marketing strategies that realtors use. In fact, for decades real estate postcards have been used by successful agents more than any other marketing plan. For some, real estate postcards are an effective and inexpensive tool used in their marketing mix to get a new listing, promote open houses, and build relationships with prospective clients. So, why do these postcards work?
They are highly targeted.
They allow you to target specific cities, towns, and neighborhoods with pinpoint accuracy. They reach their intended audience and target only the people who will most likely respond to your call to action. Typically, realtors send real estate marketing postcards to the people who they want to target in a specific area with similar demographics.
They are cost-effective.
Other forms of conventional direct mail like sales letters, brochures, and order forms cost more to print and real estate postcards are proven effective. Business owners and companies can print postcards inexpensively and they can save even more when purchased in higher quantities. Also, postcards don't require envelopes which are another way to save money.
They are attention-getters.
Real estate postcards stand out because they get the attention of prospects right away. They can easily read and understand the message without opening an envelope. With a brief punch message, attractive and colorful graphics and pictures, these postcards can easily draw attention allowing clients to keep them instead of throwing them in the trash.
Postcards as real estate marketing tools can produce even better results, especially when you use them properly to generate sales leads. They are easy to test and will produce fast results for a great ROI. Therefore, they can help you get a few leads in the short-term and build brand awareness in the long-term.
To find out more about real estate marketing postcards, contact Best Print Buy.