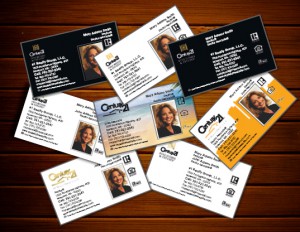 When you're new to real estate business and starting to build up your clientele, it can be very challenging to get your name out there and stand out. Whether you're hosting an open house or typically chatting with someone at a coffee shop, make sure you have Keller Williams business cards with you because you'll never know when you'll meet your potential client. These business cards are an easy and effective way to give your contact information and grow your business, and a great way to share with potential referrals as well.
Business cards aren't just a convenient way to show your contact information but also a way to make your clients remember you. This is why a well-designed card is a must. You have to make most of the little space that you've got by adding your name, company's logo, contact information, a tagline or a quote. Also, you can add a personal touch to your card with your photo in order that your potential clients can remember you more because undoubtedly most people are not good with names. This needs a lot of balance so it should be carefully and professionally made. Whether you prefer business cards with modern designs, luxury branding, or classic minimalist style, Keller Williams real estate business cards can help you stand out from the crowd.
Creating a good and memorable business card reflects your brand and enhances your image. Elegant, high-quality and durable Keller Williams business cards can help build trust with your clients and can give you the best first impression. If you're looking for quality and value for you Keller Williams business card, Best Print Buy can make it happen and help you get the most out of every card.