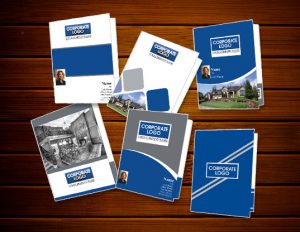 In the real estate industry, agents and brokers strive to find ways to get their names in front of clients. As the popular quote says, "You never get a second chance to make a first impression" which means how you create a first impression to your prospects will set the tone for how your relationship with them will develop. Basically, it's essential to give a first impression that shows professionalism and attention to detail because if you fail at this, you lose the opportunity to strengthen the connection with clients. Using custom presentation folders to give your brand's image a boost is the right way to get you on the right track.
Real estate presentation folders help you present a professional impression whether you're conducting a presentation or pitching your brand. All important papers and documents will be organized properly which adds impact and value to the information within. Thus, the careful attention spent in organizing pertinent information shows how strongly you value your business. Moreover, folders are not just used to boost your presentation but they are also an effective way to advertise your company.
To maximize presentation folders, personalize them by adding your company logo, photo, contact information, colors, and other elements that reflect your company. This shows that you take pride in your company and the information you're presenting. Customized presentation folders help give the right impression to help close more deals. Thus, effective branding leads to higher sales and higher profits.
For your customized presentation folder printing needs, contact Best Print Buy.