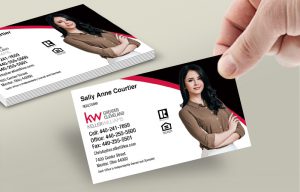 When you're starting out as an agent, getting your first set of business cards is a big deal. It's a sign that you've made it – that you're really, officially, for real, no kidding, in the real estate business.
Your first set of Keller Williams business cards isn't just a rite of passage, though. Used correctly, they can be a high value, low cost source of leads and referrals. The secret to a great business card? Take the time to plan your brand, market, and message before you order a single card.
Understand Your Brand
Competition can be fierce in the real estate market. What do you offer that other agents don't? What do you do well that other agents struggle with? You won't be able to fit your entire elevator pitch on your Keller Williams business card, but whatever you design should support the brand image you want to project.
Define Your Market
At its most basic, a business card is a way to pass your contact details to people who might be interested in working with you. But these days, cards have to do a lot more. Your Keller Williams business card needs to appeal to your ideal client.
Are you looking to be a military relocation specialist?  Want to work with young families and first-time homeowners? Focusing on the luxury home market? Whatever you want to do, whoever you want to work with, your business card should appeal to that market specifically.
Develop Your Message
Finally, combine your brand and your market to develop a message you want your card to convey. That could be an explicit slogan or tagline, or it could be reflected in the photo you use, the contact details you include, and the design elements you choose. Ultimately, you need to make it your own.
Want great deals on business cards and everything else you need as a new Keller Williams agent? Sign up for our free monthly newsletter for subscriber-only discounts!