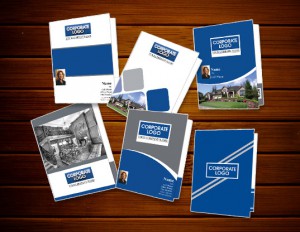 Real estate buyers and sellers alike will utilize electronic media to the maximum extent, however, traditional off-line marketing services are essential to effective real estate buying and selling. In this digital age, although many real estate companies are using websites and social media to share relevant details and information, paper forms are still vital. Having Coldwell Banker presentation folders to organize important documents and to present them systematically to your clients will enhance your professional image.
Digital age has certainly changed a lot of things, but not everything. It hasn't killed the paper form yet because there is certain information that needs to be accessed and signed on hard copy. Real estate presentation folders help real estate agents and brokers to keep cut sheets, sales information, photos of homes, and all important papers and documents organized from the start. This maintains the consistency of your marketing efforts.
Customized presentation folders from Best Print Buy can help build your brand's recognition. You can add unique touch to these folders by personalizing them with your name, photo, logo, contact information, graphics, and other elements that will give you a professional look and make the design truly yours. This is an excellent way to get your name and your company in front of your clients.
Contact Best Print Buy for your personalized presentation folder printing needs.