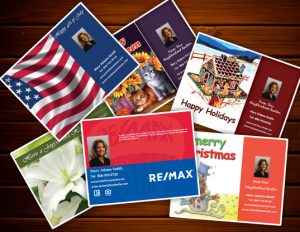 In today's digital age, of course it is wise to use search-based internet ads and social media as part of your marketing strategy. Never forget the time-honored marketing tools of successful real estate agents, specifically the use of real estate postcards to generate business.
Real estate marketing postcards are easy, proven, and affordable marketing tool in gaining the attention of your ideal clients. They are guaranteed to be placed into your client's hands. Your message can easily be seen since it doesn't require an envelope like the letter does which is why a compelling message is vital to get good response. They become more useful when used in conjunction with a advertising and branding strategy that includes other forms of marketing to include business cards, magnets, and other tools that increase the odds that prospects can reach back to you. With the reinforcement of a tangible promotional items, this ensures your business and your brand is stored in the minds of prospective clients whether they are ready to move now or in the near future.
Tangible promotion campaigns (postcards, calendars, magnets, pens, etc) offer functional utility to the recipient and are often retained for that very reason alone. They may or may not be immediately prepared to engage the real estate sales or buying process, but your name and brand remains visible to them nonetheless. When the need for real estate service do emerge, you are singularly the easiest point of contact because your name is right in front of them.
A professionally-designed real estate postcard will harvest both short and long-term results. Moreover, postcards as real estate marketing tools are quick and easy to create. Because they are fairly simple and inexpensive to design and print, you'll have higher return on investment. Consider your postcard's color scheme, font, and layout because perfecting these key elements will create a picture of who you are and what your company reflects.
To find out more about real estate marketing postcards, contact Best Print Buy.